How do you wear UGGs
By Catalogs Editorial Staff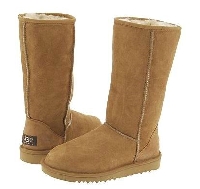 How do you wear UGGs? Finally answer the age-old fashion question!
Everyone has witnessed the enormous popularity of the UGG boot. This reputable Australian brand is loved by everyone from celebrities to children, and it's not hard to see why – you can get some varieties for as low as $135 a pair (which isn't bad for boots), they're stylish, they keep you warm, and they're comfy!
Although Classic UGGs can be worn with many outfits, there are some things that are a true match-made-in-heaven with these winter fashion necessities.
There are also outfits and occasions that do not call for UGGs. UGGs can tempt you to wear them absolutely everywhere since they're so comfortable, but it's important to realize how to wear UGGs and how not to wear UGGs.
Before you continue reading about the How do you wear UGGs there is a special announcement we would like to share with you. Catalogs.com has negotiated special medicare rates for our vibrant community of seniors. If you are over the age of 60, you can head over to our Seniors Health Section which is full of information about medicare. All you need is your zip code and a few minutes of your time to potentially save 100s of dollars on your medicare bills.
Here are some occasions where Classic UGGs should stay in your closet:
First Date at an Elegant Restaurant

The impression one gets on the first date counts for everything, so don't ruin it by wearing UGGs to a swanky restaurant, or any exquisite setting, for that matter. Don't let a pair of UGGs cover freshly pedicured toes or take away from a chic little black dress. If it's cold out, simply wear sheer stockings and close-toed pumps.
~
Night Out at the Club
Picture the following outfit: a semi-sheer metallic silver top, a skin tight mini skirt, and glitzy accessories. All of these things should be in the equation of a heart-stoppingly sexy outfit for a night out at the club, but UGGs should not be anywhere in the mix. If you're dressing for comfort, a pair of flats or flashy sandals sans heels should be a last resort, not UGGs. Wearing UGGs with a club outfit is like wearing a shirt and shorts under a bathing suit –  it just doesn't work.
Now that you know what to never wear your UGGs with, here are all of the occasions/outfits where UGGs work beautifully:
Running Errands in Sweats
Sweatpants are an UGGs best friend. Don't be counterproductive with your goal of achieving ultimate comfort by wearing fussy shoes that kill your feet or cause blisters. Be sure to tuck your sweats inside the boot so you can show it off in its entirety. Voila! This effortless look is now complete.
Night at the Movies

This is a date night that will gladly welcome a pair of UGGs, especially when it's cold. Wear them with a pair of skinny jeans, a long sleeved shirt and a cami, and a cute scarf. Remember, the boots should be over, not under the jeans. These boots are a lifesaver and will keep you toasty both inside and outside of the theatre.
Walk on the Beach
Some of the most romantic nights with a significant other are the ones where you walk on the beach on a chilly night then snuggle up on a blanket while watching the moon. Don't ruin it by having feet that are freezing cold! Wear your UGGs with lots of layers and of course, jeans. The fluffy interior of these boots will keep you comfortable and cozy, and also allow you to endure the stinging cold from the sea breeze.
Around the House
A lot of people like to have bare feet while lounging around at home, but UGGs are just as comfortable if not more comfortable than bare feet alone. Sometimes going shoeless won't keep you warm, and that's where UGGs come in. UGGs come in a slipper variety, so you can wear those or just stick to the classic boot. Pair them with absolutely anything, from PJs to your Snuggie. Anything goes, because after all, you are at home, and your comfort and warmth are all that matter.
Heavy Walking

Pretty much any situation that involves a lot of walking welcomes UGGs, from theme parks, to dog walks, to trips to the mall! Just make sure your entire look follows the whole casual idea. Wearing shorts with UGGs is not as ideal as wearing jeans with UGGs, but if you decide to opt for shorts, make sure you wear some sort of legging or stocking under the shorts; you're wearing UGGs to stay warm, and you don't want to look weather-confused. 
Keep in mind most these are tips on how to wear the Classic UGG boot (pictured above), and that UGGs come in many different styles. They come in sandals, sneakers, men's footwear, and many other varieties, so change your clothing accordingly. For example, if it's warm out, wear UGG sandals and dress for warmer weather.
No matter what, really keep in mind how you do and don't wear UGGs. Classic UGGs can make a very dressy appearance turn bulky and sloppy. However, if you don the right casual clothes, UGGs can be the aid in achieving warm weather fashion perfection!
Popular Savings Offers