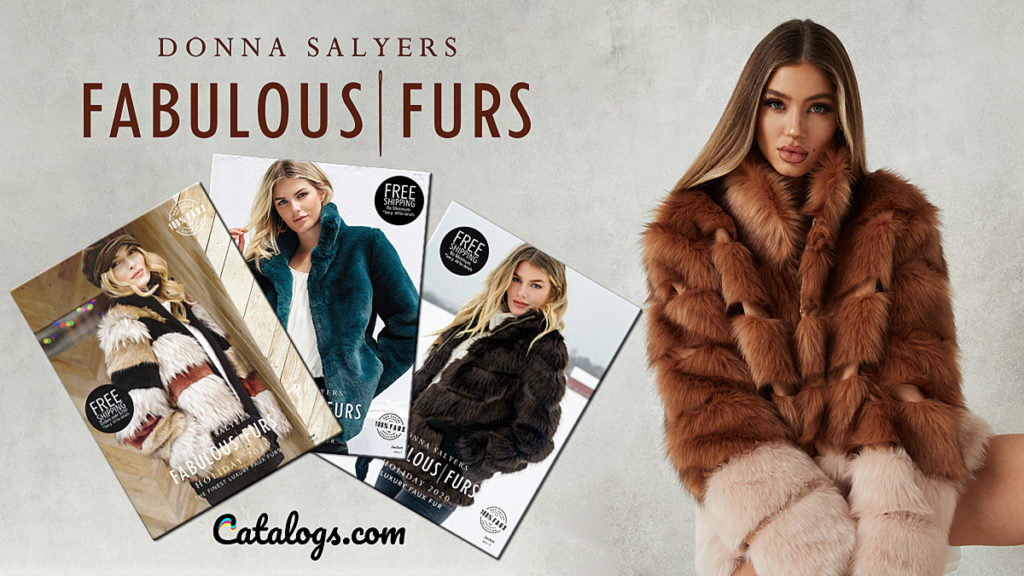 Donna Salyers Fabulous-Furs is the industry leader of faux fur coats and jackets, faux fur throws and pillows, and home décor! 100% Faux. A luxurious cruelty-free alternative to real fur.
Select from a large collection of 100% faux fur coats, jackets, accessories, children's apparel, throws, pillows, and home décor. Fabulous-Furs' faux fur products provide the same luxury, warmth, glamour, and fashion as real fur at affordable prices.
Our brand began with a passion for animals, needles, thread, and the belief that cruelty-free fashion could be achieved. Nearly 30 years ago, after sewing a luxurious faux fur coat for herself, Donna Salyers designed a sewing kit so others could do the same. Success followed passion and excellence, and Donna ushered in an exciting new era for the faux fur industry.
About Fabulous Furs
At Donna Salyers Fabulous-Furs, we remain loyal to the true craftsmanship that goes into creating our products. Our fabrics and materials are carefully selected to ensure the finest luxury faux furs. Our faux fur is made of the most natural-looking, visually and texturally exquisite textiles, sourced by industry experts. Over 60% of our merchandise is handcrafted in our workroom and made in the USA. All products withstand a rigorous 20-point quality inspection and assurance. Every piece in our collection receives personal attention, from the design table to the sewing room, from our hands to yours.
Sold online, through our catalog, and in fine stores, such as Neiman Marcus and Saks Fifth Avenue, as well as other luxury boutiques and hotels throughout the country.
The Free Clothing and Accessories Catalog
The Fabulous Furs' 2021 Free Gift Catalog has a broad selection of apparel and home solutions. These are not just practical and stylish. They're also affordable!
This catalog brings you an extensive collection of different things that you need! Whether you're looking for beautiful designer clothing to keep you in style during the cold months, or you want to glam up your home, you'll find what you're looking for a Fabulous Fur Gifts and apparel. Prepare for any weather with the collection of designer coats and jackets. Whether you're a fan of faux fur coats, classic black coats, or long winter coats, you'll find a design that fits your style.
You can also find a variety of home decor products to help you bring a customized look to your home. Fabulous Furs combines luxury, aesthetics, and comfort in all of its home decor options. With carefully selected materials to meet different luxurious needs, you'll have an awesome shopping experience and plenty of items to peruse.
These also make for excellent gift ideas for friends, associates, and family members. You can choose one of the beautiful coats with superior design as a special gift for a loved one this season.
If you're interested, request a catalog now!
Frequently Asked Questions about the Fabulous Furs Gifts Free Catalog
How can I request the Free Catalog for 2021?
To request Free Catalog, go to our catalog request page and fill out the form with your correct details. Shipping is free.
What's New in the Fabulous Furs Gifts Catalog for 2021?
The 2021 catalog has extensive collections of 100% faux fur coats, jackets, children's apparel, pillows, and home décor. Find the most comprehensive selection of fashion and home decor supplies in one place. All are designed to give you the best shopping experience.
How Quickly Can I Receive an Answer To Emailed Questions?
If you send any questions about the Fabulous Furs Catalog, you can expect an answer in one to two business days hours.
Decorate Your Home with Fabulous Furs Home Decor Catalog
There's no better way to plan a home makeover than starting with inspirational ideas for the home. Fabulous Furs' home decor catalog offers more than just product ideas. It shows how different styles of interior designs are applied, so you can visualize how they would look in your home.
The catalog features a well-known range of top-quality decor and furniture. It has exclusive designs to bring a new definition to your home's look. The contemporary and modern style interior decor products in the catalog can give you great ideas on how you can tweak your home to fit popular design trends. Whether you are shopping for yourself, or a friend, Fabulous-Furs has something for everyone at affordable prices. Request a free catalog from Fabulous Furs Gifts now.
Shop Fabulous Furs' Coats and Jackets Catalog
Some things never go out of style. Women's and men's fur coats and jackets are at the top of that list. Request the Coats and Jackets Catalog to stay toasty during the holiday season.
The Fabulous Furs Gifts Coats and Jackets Catalog lets you browse an outstanding range of fur coats and jackets to fit any occasion. Whether you're looking for candy-colored pastels, animal prints, or oversized belted toppers, you'll find plenty of faux fur outerwear.
Rock in comfort and warmth while maintaining a touch of style in your every wear this season.
Shop Fabulous Furs Catalog for Children's Apparel
Kids need to keep track of fashion trends as well. The Fabulous Furs Catalog travels the world to bring you well-tailored kids clothes for different events and adventures. The Furs Catalog for Children Apparels combines playfulness and practicality in each design to give kids an opportunity to express themselves.
There's more to this catalog than a collection of pictures. Your kids need ideas to keep up with fashion trends. This catalog has everything they'll need to remain fashionable and plenty of selection to fit their taste. Check out the Fabulous Furs Catalog today for the best options in winter fashion!