Personalized fashion jewelry and watches for men and women, exclusively from The Bradford Exchange Jewelry collection.
How can I request a Bradford Exchange for 2021?
To request your Bradford Exchange Jewelry catalog for 2021, fill out our Catalog Request Form and you'll receive your free copy of + Bradford Exchange Jewelry with no shipping costs. With exclusive offers, coupons, deals, and promotions, you will surely enjoy browsing through their products. Grab your copy right away.
Personalized
The Bradford Exchange helps you create one-of-a-kind jewelry and treasured tokens that can be expertly etched with any special names, dates, stories, and sentiments that are close to your heart. Choose your perfect personalized gem or jewel from an effervescent assortment of rings, bracelets, earrings, and pendants that can be customized for any loving couple, recipient, or occasion, from Mother's Day to Weddings, Graduations to Golden Anniversaries, and more momentous milestones.
Relationships
Celebrate your unique bond with jewelry inspired by and designed to honor the most cherished relationships in your life. Shop by gemstone, relation or theme with striking birthstone, diamond, and heart-shaped stunners presented in gorgeous gold and sterling silver settings that will delight any daughter, mother, sister, or wife. Explore a dazzling menagerie of charm bracelets, rings, watches, and pendants that will appeal to every generation represented on your family tree.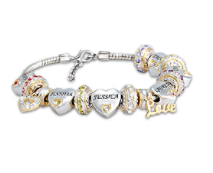 Women's Jewelry
Give her a gift that she will always remember with beautifully handcrafted beads and baubles that are truly unforgettable. Browse a bewitching collection of birthstone and charm bracelets, stunning stud, hoop and drop earrings, romantic rings, dramatic sparklers, and whimsical themed jewelry pieces that will pay tribute to her favorite pets, inspirations and interests.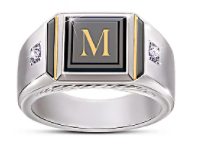 Men's Jewelry
Spoil him on his next Birthday, Father's Day, Christmas, or Graduation with bold men's jewelry styles that will help him salute his favorite passions and pastimes. From sports and military-themed rings to masculine dog tag chains and arrowhead pendants, you'll find the perfect Bradford Exchange piece that will fill him with pride, every time he wears it.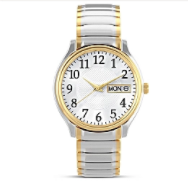 Watches
Adorn their wrists with a tasteful selection of men's and women's watches that are meticulously handcrafted, infinitely elegant, and designed to serve as cherished keepsakes now until the end of time. Shop by theme, style, or material from a handsome collection of commemorative wristwatches and collectible pocket watches for men, timeless timepieces for women and girls of all ages, with a selection that includes engraved sentiments that will add an air of refinement, a touch of warmth and everlasting charm.
Explore the Bradford Exchange Jewelry collection of fine handcrafted jewelry, featuring exquisite pieces that are unique, memorable, and gracefully personalized especially for your family member or loved one.
Frequently Asked Questions
Here are the FAQs to find answers to your questions. This will discuss everything you might want to know about The Bradford Exchange from ordering, shipping to billing procedures; the current outstanding of Bradford Exchange guarantees, how to care for your collectibles, and much more!
For questions about The Bradford Exchange Rewards program, call 1-877-518-2644.
Billing & Tax Information
When are charges deducted from my payment method?
Charges are not deducted from your chosen payment method until your item is selected for shipment from our warehouse. When paying in installments (available only for select items), subsequent installments will be deducted from the same payment method about every month until payments are complete. We accept VISA, MasterCard, Discover, American Express and PayPal for payments of your online order.
2. About installment payment plans
Installments are an affordable way to shop because they spread the total cost of an item over several months. When installments are available, the number of installments and price per installment will appear on the item detail page. (Note: not all items are available for installment payments.
3. About installment payments for collections ordered by subscription
Installments are the affordable way to purchase a collection. Your installment charges are deducted about monthly, from the payment method that was authorized at checkout. We do not charge interest on installment plans. Your first installment will be deducted when your first item is selected for shipping from our warehouse.
Returning an Item
About returns or exchanges for all items
To return an item for an exchange or refund, it must be returned within the specified warranty period. All items should be returned in the original package. If the original package is not available, we encourage you to pack the items securely. If the package is unopened, you may write Refuse/Return to Sender on the outside of the package and place the return in any U.S. Postal Service mailbox.
2. Check status of returned items
You can check the status of your return online 24 hours a day, 7 days a week, for any item ordered via the Internet, phone or mail from The Bradford Exchange.
Orders and Returns sent using our Return Information Card can take from 10 to 15 business days for transit and processing before they appear online.
When we receive your return we will promptly issue an exchange, replacement, or refund via a check or a credit to your original payment method, if a refund is due. Processing rules allow us to issue credit ONLY to the payment method that was originally used for purchase. To issue a credit to another payment method or to refund this payment is prohibited under these rules.