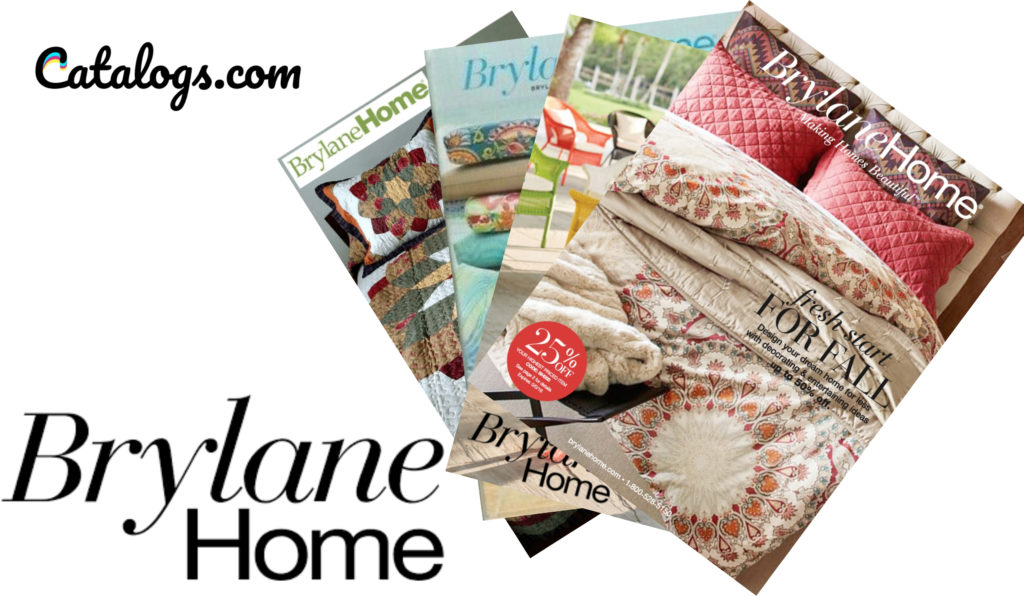 Find the perfect window solution for every room in the Brylane Home Window Treatments catalog with cheerful kitchen curtains, formal drapery panels, valances, swags, contemporary blinds, and Roman shades – all with a money-saving coupon code.
Brylane Home Windows Catalog
Brylane Home is your destination for window treatment ideas that bring style & value to the forefront. Choose from their latest collection. It includes curtains, drapes, sheers, valances, and more for your space from some of the top brands in the world.
For more than 20 years, the talented team of Brylane Home has been committed to designing and sourcing exclusive treasures for every room of your home. In terms of decorative value, Brylane Home understands that it's important to provide you with a broad range of options to choose from. Hence, the windows catalog features varying colors, lengths, styles, materials, and levels of opacity, which are important aspects when choosing the right window treatment products for your home. No matter your need, Brylane Home carries everything from sheer curtains to room-darkening drapes. It includes valances, blinds, shades, and window hardware.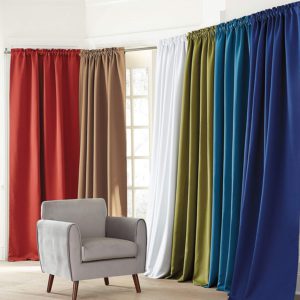 Brylane Home Curtains And Drapes Catalog
Introducing one of the most impactful decor elements that you can ever add to your space. Curtains and drapes are a lovely way to complement your existing decor. Whether your style is simple, modern, transitional, or somewhere in between, Brylane Home has just the right curtains and drapes that will work well in every room and serve more than just an aesthetic function.
The curtains and drapes catalog from Brylane Home carries a wide range of options with varying colors, styles, lengths, materials, levels of opacity, and much more. The store has everything from sheer curtains to room-darkening drapes, including valances, shades, blinds, and window hardware. Moreover, when it comes to functionality, curtains, and blinds, the catalog has a lot of options on offer. These are great for providing the required privacy as they let you decide when and how much of a barrier you want to create. You can choose from opaque and sheer drapes (or combine the two) for different levels of privacy.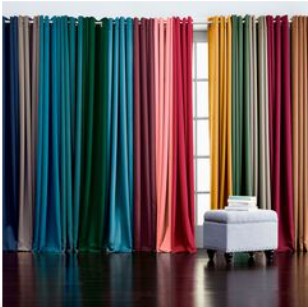 Dressing Windows
When it comes to dressing windows in the kitchen, most people opt for curtains that don't hang below the window sills, especially above sinks and counters. In such cases, you can take a look for valances or the special range of drapes offered in kitchen curtains. The catalog also offers curtains and drapes for saving energy and blocking light. To keep your house cool, you can choose the BH Studio Room-Darkening Rod-Pocket Panels. In addition to reducing heat, room-darkening curtains should be an ideal choice when you want to sleep in or want to reduce glare in a media space.
Other than the everyday curtains and drapes, you can also find a range of specialty items including, balloon shades, door panels with tie-backs, decorative window scarves, and light-up curtains that are perfect for making a real impact on your space. You can use the Pre-Lit Rod Pocket Curtain Panels during the holidays for an extra touch of festive cheer. They are great for creating an ambiance in the bedroom and set peaceful intentions in meditation or home yoga space.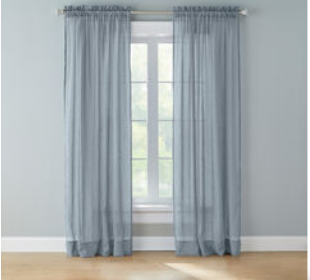 Brylane Home Sheer Curtains Catalog
Transform your interiors and give your home a unique character with sheer curtains. The sheer curtains catalog of Brylane Home carries a range of dreamy, airy, and lightweight, sheer curtains that add a unique effect to your space. Whether you display one or layer them, sheer curtains are a versatile choice for any home.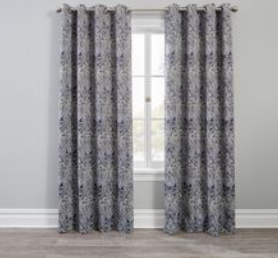 A Wide Variety of Options
Brylane Home offers sheer curtains in solid colors as well as those with textures and decorative prints. These curtains can also be a lot of fun to layer. The sheers curtains collection features different types of draping options depending on the type of lighting you prefer. You can combine them with opaque drapes, and the possibilities look endless. The simple and effective form of layering window treatment is to hang solid curtains over sheer curtains. To achieve this effect, all you need is a double curtain rod.
In addition, sheer curtains serve more purposes than just dressing up your windows. They are great for creating a romantic and elegant retreat around your bed. Moreover, you can also use them to divide up space in an open floor plan or loft as well. What's more, they can also serve as decorative backdrops along a solid wall, or you can hang them in doorways and closet openings to provide eye-pleasing separation.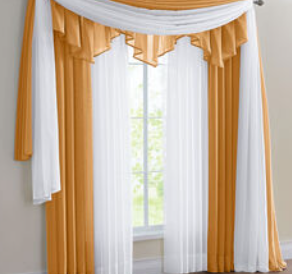 Brylane Home Valances Catalog
Browse through the range of window valances. They are great for adding finishing touches to your space and help you tie everything together. Window valances are a must if you'd like to add dimension and weight to your window. These short but stylish curtains only cover the top portion of your windows; as such, they are perfect for letting in light and providing unobstructed views. You can choose them to hang alone or pair them with coordinating fabric panels to add more elegance to your space.
Brylane Home offers valances in different patterns, designs, and colors to match your decor. In addition, you can also find a variety of fabrics like sheer casual canvas, sheer voile, quilted cloth, and more. If you are looking into pattern mixing or want to make your prints stand alone, then you should take a look at the decorative window valances that can instantly transform any room. From fabulous florals to coastal cool, the catalog has all the options that will blend flawlessly with your decor.
Furthermore, if you want to add a taste of the coast into your home, then you should opt for the beach-inspired window valances that help to bring the serene ocean blues and earthy taupes for a beautiful mix of sea and sand. Finally, the uniquely shaped window valances are great to create a home that speaks to your sensibilities and personal design style. You can choose from scalloped, triangular, waterfall, and other shapes for window treatments that wow your space with a unique look.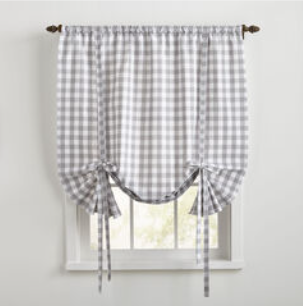 Brylane Home Blinds & Shades Catalog
Give your decor a touch of opulence with the trendy and modern blinds and shades catalog of Brylane Home. These functional products are specially designed to filter light and provide privacy. They are easy to open partially, fully, or close completely. Brylane Home carries a range of blinds & shades that help to enhance your decor, improve privacy, and reduce your energy bills. Whether you require window treatments that are lighter and more ethereal or something that blocks out all light, Brylane Home has got everything out there. At Brylane Home, you also get a range of thermal fabric roller shades that will help reduce the chill coming in through your windows.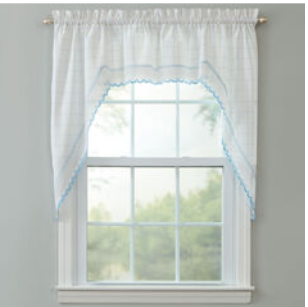 Brylane Home Kitchen Curtains Catalog
Take a look at the stylish tier curtains, cafe curtains, full-length curtains, etc., that are perfect to complement your kitchen decor. The kitchen curtains offered by Brylane Home are a great way to create privacy while still allowing light into your rooms. Moreover, they are also an affordable way to add a major impact to the look and feel of your kitchen.
The kitchen curtains catalog of Brylane Home offers a variety of kitchen curtain styles to accentuate your space. If you want to maximize the light coming into your space, then you have the option of valances and swags. The cafe and tier curtains can be used alone or paired with a valance and are an ideal choice for elevating your eating space. The tie-up window shades complement all types of kitchen windows including, bay windows above sinks and countertops. Finally, the full-length kitchen curtains make a major visual impact in your eating space while giving you the option to filter out a lot of light and create some privacy when closed.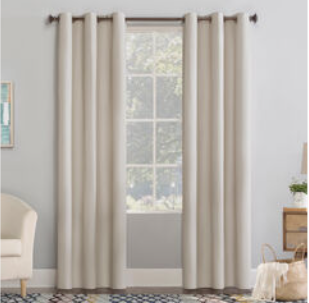 Brylane Home Blackout Curtains Catalog
The blackout curtains from Brylane Home are perfect for keeping out light from streaming into the home where it is not wanted. These blackout curtains from Brylane Home can serve to help insulate the home by blocking direct sunlight. If you are working overnight shifts, then you can be at risk of health due to irregular sleeping habits. Switching to Blackout curtains from Brylane Home in your bedroom will reduce health risks by creating the ambiance of the night.
Alternatively, these blackout curtains are also great for creating the complete darkness that you desire in your TV/movie room. They are perfect for blocking out any light that might spoil your home theater movie. Moreover, if you want to decrease your energy costs, putting on blackout curtains is a great decision. About 10-25 percent of thermal energy is usually lost from windows. When you put on blackout curtains, your electric bill may be reduced. Whether it's winter or summer, the blackout curtains from Brylane Home can not only help you save money but also provide a surprising difference to any room.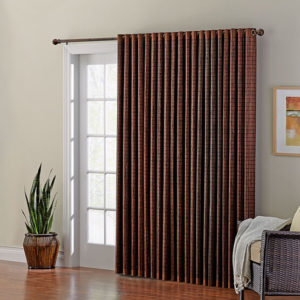 Brylane Home Grommet Curtains Catalog
Browse through the grommet curtains catalog at Brylane Home to find a range of substantial selection of grommet-topped curtains & drapes. Grommet curtains are an interesting window element that has become increasingly popular. Their affordable price tag, crisp lines, and modern appeal have made them a favorite in today's home decor, from the living room to the bedroom. Another beautiful feature of grommets is the waves they create. When combined with color, pattern, and texture set, they create a unique decorative style.
Beyond the functional purpose of grommet curtains for room darkening to block out natural light, the grommet curtains catalog of Brylane Home can be a best friend of an interior decorator. You can choose from a variety of colors and styles that are perfect to match and update your home decor. What's more, you don't have to buy additional rings or hooks to hang them with—the hardware is built right in with no rod pockets to thread through. No matter your preferred decorating style, you will find fabulous varieties of grommet curtains here at Brylane Home.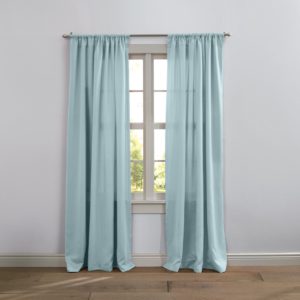 Brylane Home Rod Pocket Catalog
Shop online for the best rod pocket curtains at Brylane Home, a leading store with a great collection of rod pocket curtains at reasonable prices. They are classic and work well with layered window coverings. Valances hung above the curtain hide the rod even when the curtain is open. Moreover, you can also mount sheers under the main panels to create a more amazing look. Made of lace, polyester, velvet, etc. these curtains are most suitable for casual settings. They are easy to set up as all you need to do is slip the pocket over the rod.
A Wide Variety of Options
Brylane Home collection has a range of coverings to match your design aesthetic. You have the option to choose from natural materials like wood and bamboo, as well as canvas, lace, and woven fabrics. No matter your need, simple, modern, ornate, or traditional, you'll find an option for every room. What's more, the catalog also offers blinds and shades in a variety of neutrals and pleasant colors to harmonize seamlessly with your decor.
The catalog also has a variety of cordless blinds and shades that are safer and oftentimes more convenient than their corded counterparts. These are ideal for households with small children and pets or for anyone who likes the simplicity of a cord-free experience. Such types of blinds and shades work great in a variety of spaces. You can choose from roller shades, horizontal sheer shades, Roman shades, faux wood blinds, and much more. If you are looking for woodwind shutters, then you can take a look at the traditional faux wood blinds as well as shutters with a modern touch. From your living space to your bedrooms, these blinds are great for elevating your home to the next level.
Brylane Home FAQs
Here are the most frequently asked questions about Brylane Home to keep you guided as you shop:
Where can I find furnishings and decor for my home?
BrylaneHome carries the furnishings and decor you need to make your house feel like a home. We offer pieces for every room, from bedrooms and bathrooms to your outdoor living space.
Shop our furniture collection and discover accent chairs, ottomans, bed frames, and more. We offer modern updates and statement pieces to enhance your home. Whether you're looking for the perfect finishing touch or you need an entire house full of furniture, you can find it here with us.
Do you have bed and bath essentials?
When it comes to home furnishings and decor, we think bedrooms and bathrooms should become the sanctuaries of the house. These are the spaces where you relax, unwind, and forget about the day. Whether you're an avid reader or enjoy soaking in a warm tub, decorating your space thoughtfully will help set the mood.
We have headboards, bed frames, and all of the bedding you could possibly need to put the finishing touches on your space. Pick up a bench to place at the foot of your bed and a chair for a reading nook that also doubles as a place to put on your shoes.
Get organized in the bathroom with storage cabinets and vanities. Harmonize your bed-bath decor with towels, mats, and shower curtains that tie everything together. We have bath sets in a variety of colors, styles, and designs to suit your tastes.
What about outdoor furniture and decor?
Your outdoor living space is simply an extension of the inside. Entertain, lounge, relax and play outdoors surrounded by decor and furnishings that make it feel complete.
Look to our all-weather outdoor furniture for durable, beautiful, and functional pieces. Infuse a little joy into your patio and porch decor with vibrant cushions, pillows, planters, and more. We also have festive dishware that will make entertaining a breeze. Platters, serving trays, dinnerware, and flatware sets are sure to brighten your tablescape.
Where can I find kitchen must-haves?
Our kitchen home furnishings and decor will have your kitchen running like a well-oiled machine. Cook efficiently and with pleasure when you utilize the latest tools and technology to help get the job done.
We have top-of-the-line cookware sets that include everything you need to whip up a gourmet meal at home. You'll also find essentials like mixing bowls, trash cans, and baking tools. Add the finishing touches with organizational tools, like our mobile Scroll Kitchen Cart, 2-Tier Fruit Basket, and 4-Tier Spice Rack.
Change the way you cook with one of our countertop appliances. Try an air fryer for healthier food that retains flavor. We also have pressure cookers, stand mixers, smart grills, and waffle makers to make your life easier.