Transform your garden and outdoor living spaces with custom Amish gazebos and gazebo kits. Complete your landscaping project with the perfect finishing touch: a beautiful and durable gazebo, pavilion, or pergola.
Our structures are known for quality, durability, and beauty. Perfect for your home and making memories with family and friends. You can shop amazing items at discounted rates with our catalogs. Browse through a wide variety of products that you will surely love.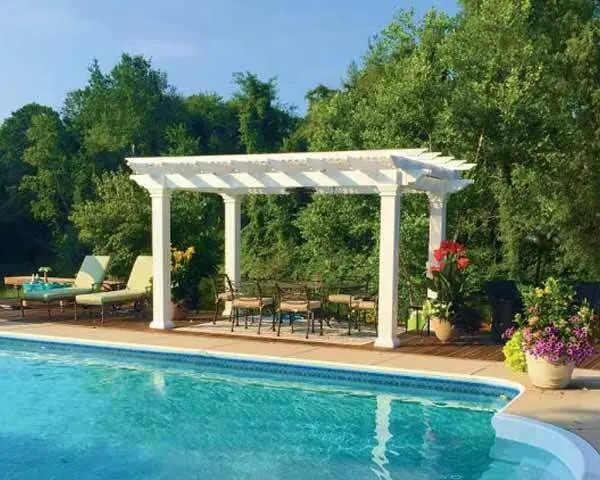 Finest Quality
Beautify your backyard with a wide selection of custom-built wood or vinyl gazebos that are exclusively handmade by a masterful team of Amish craftsmen. Add style, shade and serenity to your outdoor living areas with durably constructed Amish gazebos that will serve as the perfect centerpiece for your garden, lawn, patio or poolside. View the Amish Country Gazebos online catalog or order your own free ACG catalog, DVD and price guide that will include all of the information you need along with an extensive assortment of garden gazebos and styles that will complement any landscape and cater to any budget.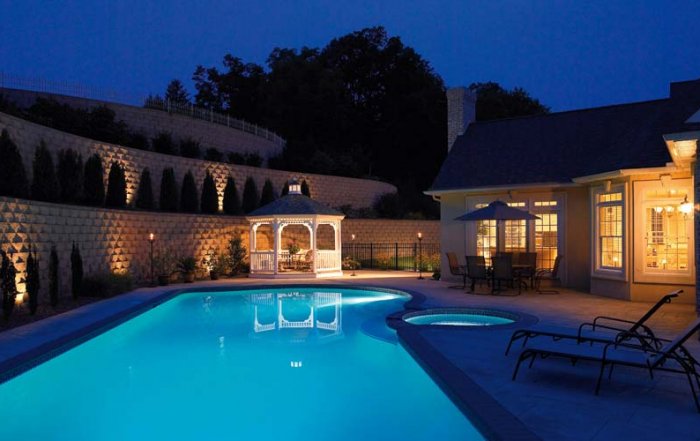 Design Your Own Gazebo
Whether you prefer screened-in garden gazebos to keep insects away, a traditional gazebo to cover your spa, or a majestic look to serve as a backdrop for special outdoor events, they'll make it easy to create and construct the ultimate gazebo of your dreams. Launch their easy-to-use Design Your Own Gazebo feature online to select your preferred size, material, roof-style, shingles, and more details and accents that will make your gazebo all your own.
The ACG Difference
What makes an ACG gazebo different from those produced by other manufacturers? All ACG Amish gazebos are hand-built and engineered by actual Amish craftsmen and backed by a lifetime guarantee, so you know that your gazebo is built with care and built to last. The best building materials, the best service, the best quality, and the best value.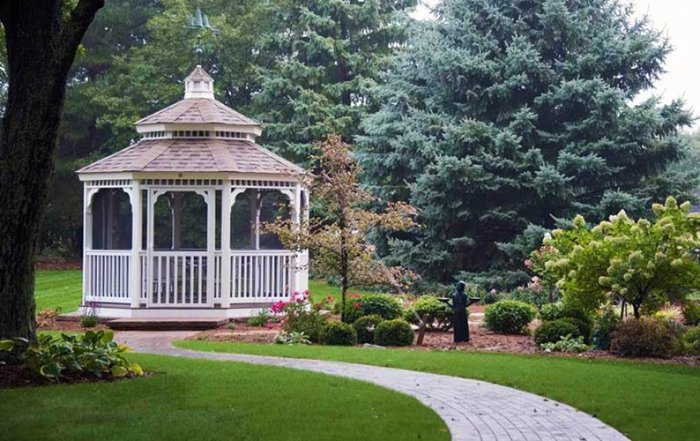 Photo Gallery
If you've always wanted a custom gazebo but don't know where to start, browse ACG's online picture gallery for endless ideas and inspiration. Explore a sampling of wood and vinyl options in various styles, shapes and sizes that will enhance any landscape design.
ACG is the nation's leading retailer of quality garden and patio gazebos and DIY kits, featuring ready-made and Design Your Own options that will help you add beauty and tranquility to your home.
Frequently Asked Questions
Which type of unit would fit well in the space I have selected?
All three of our beautiful outdoor structures fit well with virtually any landscape, but they vary in design and openness.
Gazebos provide the most closed and defined outdoor space. They have lower rails which create an intimate enclosed space that truly functions as an outdoor room.
Pergolas or pavilions have no lower rails, providing a more open feel while still giving definition to your outdoor space. While a pavilion has a solid, closed roof, a pergola features slatted roofing for a more open feel. Adding a retractable canopy to any pergola provides additional protection from rain and intense sunlight.
2. What should I consider when choosing between wood, vinyl, or aluminum?
If you want a natural look and feel, our hand-selected beautiful wood is right for you. We offer a wide range of stains that bring out the grain of the wood for a rich appearance.
Over 50% of our customers select our high-quality, maintenance-free vinyl. Each spring you can wash the vinyl like you would wash a car and your gazebo, pergola, or pavilion will look like new again! No re-painting or re-staining is required.
Aluminum is reserved for pergolas only.
3. How do I choose the right size?
Send us a few pictures of the space you have selected for your new landscape structure and one of our designers will guide you in determining the right size for you. Refer to the site preparation pages in our price guide for dimensions on most of our structures. When in doubt, go bigger. We have never had a customer complain that the gazebo or pergola they purchased was too large. But some have wished they had gone larger.